3 Differences Between Similar Types of Batteries:  C vs AA
Most of us think that size equates to power when it comes to batteries, making us add large-sized ones to our office supplies and home shopping lists. 
But nothing can be further from the truth as a smaller battery could function more effectively in a device than a bigger one.
Advances in battery manufacturing mean that two similar-sized products will have different life cycles and run times. Sometimes, smaller-sized batteries outperform bigger ones. 
Why does that happen?
Because there are some distinguishing features that we have to look out for in a battery, like the voltage and the chemistry. 
AA and C batteries are similar in structure. They are dry cell products with primary and rechargeable (secondary) variants. But there are subtle differences that set them apart. Let's explore this in more depth. 
Brief History of C Battery and AA Battery
The C battery was invented in 1900. It became standardized by the American National Standards Institute (ANSI) in 1920. AA was standardized in 1947, forty years after its introduction in 1907 by the American Eveready company.
Today, many devices like radios, flashlights, and toys, are doing away with the bigger C battery and using the AA variant. The latter possesses more power and is cheaper than the bigger old model C batteries. 
Specifications of a C Battery and an AA Battery
AA
C
Size
Length - 50mm
Height - 14mm
Length - 50mm
Height - 26.2mm
Capacity (Alkaline)
3000 mAh
8000 mAh
Capacity (Zinc-carbon)
1200mAh
3000-4000 mAh
Capacity (Rechargeable NiMH)
1700-2700mAh
4500-6000mAh
Weight
24g
69g
Standards nomenclature
IEC - LR6
ANSI - 15A
IEC - LR14
ANSI - 14A
Differences Between a C Battery and an AA Battery
The areas with the largest differences between the C and AA variants are: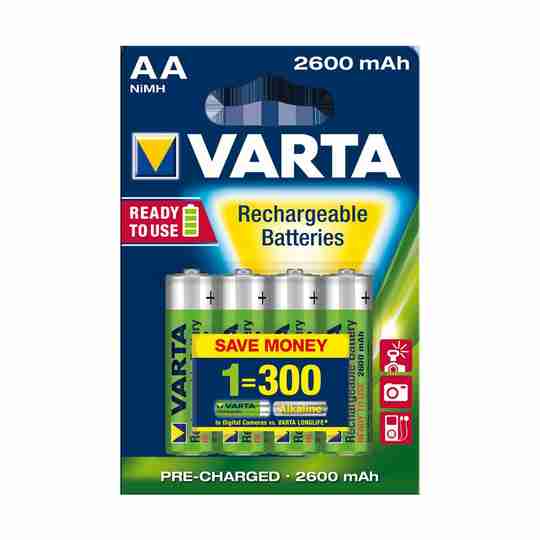 Usage
People use C batteries for medium power household and professional electronic devices. Whilst low power devices not used regularly utilise the AA variant.
AA batteries are the most popularly used worldwide. Their small capacity makes them suitable for portable household electronics and small-sized devices. 
These devices are usually low consumption devices that need a high current draw. They include:
Torches
Cameras
Toys
Wall and alarm clocks
Calculators
Remote controllers
Garden lighting
On the other hand, C batteries are used for mid-drain devices. They're best for devices and instruments that need constant use due to their larger size and capacity. These devices include:
Alarms
Musical instruments
Walkie talkies
Radios
Medium-sized toys
Torches
Cameras
Portable lighting systems 
Capacity
One distinguishing difference between an AA and C battery is capacity. The latter uses more power than its AA counterparts. 
An AA zinc-carbon battery (the lowest capacity carrier) has 1100 mAh, compared to the average 3000-4000 mAh its CC counterpart generates. 
AA alkaline batteries have an average capacity for 2700-3000 mAh while CC alkaline batteries come with 8000 mAH. 
The same is present in the rechargeable variants (NiMH), with AA having a capacity of 1700-2700 mAh and the C batteries containing 4500-6000 mAh.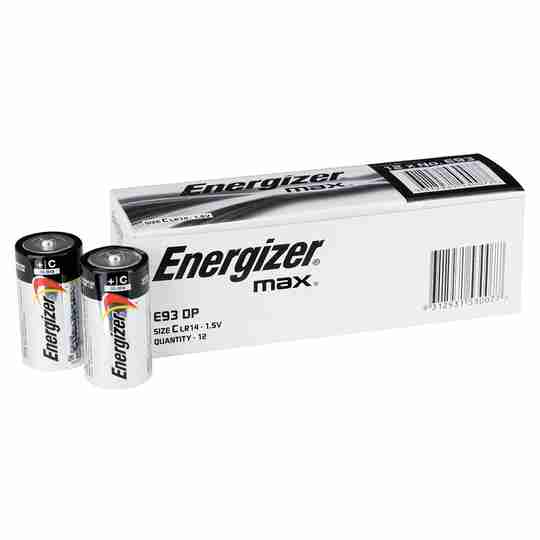 Many believe you can combine two AA batteries together to get the same output as a C battery. This coupling is possible when you use a battery adapter. 
However, the device might not be powered as long as it will with an original C battery which is built for devices that drain power fast. Two AA batteries might not be able to take care of this unique circumstance. The next section will explain more on this.  
Voltage
Even though an AA and a C battery can operate on the same voltage, it's not always the case in practice. 
An AA battery is usually limited to 1.2V and 1.5V.  A rechargeable battery that is NiMH or NiCad based makes use of 1.2V. The primary battery variant is usually 1.5V.
AA Voltage higher than this might be too much for the devices, which are usually small-sized. 
There are AA batteries that can take more voltage, like 3.0V and 3.6V. But they're rare and used in professional high-drain devices, like military devices. 
C batteries can work with 1.2V and 1.5V as well as 3.0V and 3.6V. Household products like toys, radios, and clocks make use of 1.2V (rechargeables) and 1.5V variants (primary).
Professional devices, like gas meters, make use of the 3.0V and 3.6V C variants. These voltages are due to the high-power needs of the devices. They also have a long operating life and stay stable after a long inactive period.
Frequently Asked Questions (FAQ)
What Affects the Performance of an AA and C Battery?
Some factors can impact a battery's workings. These include:
The device and its conditions
The workload of the device, which can be high, medium, or low drain.
The battery's voltage
Single-use duration
Battery type
How Long Can I Use AA and C Batteries?
If the battery and the device are in optimal condition, they can last for years. A battery's longevity is measured in shelf life. 
For non-rechargeables, a Lithium battery will last the longest, with an average shelf life of 9-10 years. Alkaline batteries have a shelf life of 5 years. Carbon-zinc variants have the lowest shelf life of 3 years.
For rechargeables, Nickel Metal Hydride (NiMH) will be around for at least 3 years. They also have a life cycle of 700-1000 cycles, which refers to the number of times they can be recharged.
Lithium rechargeables, on the other hand, have a shelf life of 2 years. Their life cycle is 600-700 cycles.
How Do I Take Care of AA and C Batteries?
Store your batteries in a cold and dry environment at room temperature
Remove them from the devices if they will not be in operation for a long time. Store them in their original packaging to prevent discharging. 
Never use new batteries with old ones. The old ones will affect the performance of the new ones by drawing from their power.
Don't burn or crush them.
Now you know the major differences between an AA and C battery, come along and get them at Australia's number one stockists, Battery Specialists.
We stock all the major brands and various battery types. Our products have been powering Australian homes, industries, and businesses for more than 30 years. 
We have the most affordable prices in the country. We have warehouses all over the country.  Our delivery options also ensure that we can ship your order to you within 1-3 days after confirmation. So, get your battery needs powered with us at Battery Specialists.