LEAD CRYSTAL BATTERIES ARE HIGH PERFORMING
Robust, resilient, high performing. Lead Crystal Batteries can be discharged deeper, cycled more often (even in extreme temperatures) and have a longer service life compared to lead acid, lead gel and SAM (super absorbant matt) batteries. Lead Crystal¨ batteries recover to full rated capacity over and over again.
LEAD CRYSTAL BATTERIES HAVE A UNIQUE TECHNOLOGY
A unique micro-porous super absorbant matt (SAM), high-purity lead calcium selenium plates, safe SiO2 electrolyte solution that solidifies into a white crystalline powder when charged/discharged.
LEAD CRYSTAL BATTERIES ARE CLEANER & SAFE
Less acid, no cadmium, no antimony. Lead Crystal Batteries are up to 99% recyclable (we are working on getting to 100%) and are classified as non-hazardous goods for air, sea and land transport.
LEAD CRYSTAL BATTERIES ARE VERSATILE IN APPLICATION
Lead Crystal¨ Batteries are being used in all industries where conventional lead based batteries like lead acid, lead gel and SAM batteries are used. A few of industries include telecoms, ups, petrochem/marine, defence, renewable energy, health care, manufacturing, transportation and electric motion (wheelchairs, golf carts & trolleys).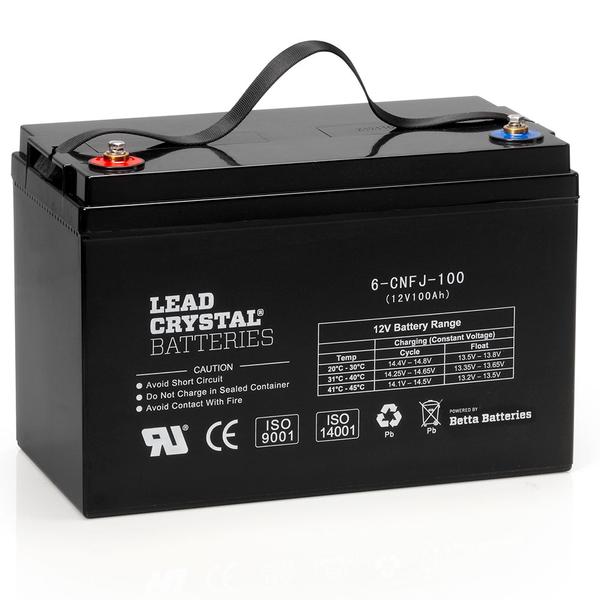 Lead Crystal FAQ's
What's the difference between the CNFJ and EVFJ Series of Lead Crystal Batteries?
CNFJ and EVFJ are both deep cycle batteries. EVFJ is more suitable for higher current loads (like Golf Carts) with stronger plates and busbars. EVFJ series named after C3 rating. For instance, 6-EVFJ-70's c10 capacity is 80 Ah.
EVFJ is not suitable for solar stand-by use.
Both CNFJ and EVFJ are OK for camper use.
Are the lead crystal batteries suitable for under bonnet use?
The high temperature will shorten the battery life and void the warranty, but it will work like an AGM under bonnet scenario.
What Are The Charge Voltage Requirements of Lead Crystal Batteries?
An AGM Battery charger on 14.4V mode will work with Lead Crystal Batteries.
14.4V Bulk, 13.5V Float voltage, Current: around 20 per cent of the capacity. It is better to limit float charging to 3 hours to prevent unnecessary heat build-up and turn off the charger once it is full.Also, quarterly maintenance cycling (discharge to 10.5V then fully charge) will increase the longevity.