Fanso Battery Information
Fanso battery is a lithium battery that is manufactured by WUHAN FANSO TECHNOLOGY CO., LTD, with over 30 years specializing in the manufacture of lithium batteries in China. Fanso batteries are used for such purposes as RFID, RAM/CMOS circuits, gas meter, intelligent instrument, automotive electronics, military radios, water meter, oil exploration medical equipment, burglar alarm and other civilian areas.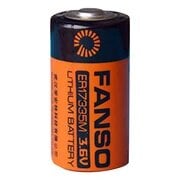 | | |
| --- | --- |
| Dimensions | Length Approx: 14.65 - 124.5 mm Diameter Approx: 3.50 - 34.2 mm |
| Voltage: | 3.6V |
| Chemistry | Lithium Thionyl Chloride |
TL-2300/S, TL-2300, 700071, LS33600, T20/51, T20/41, 1771-BL, 1770-XO, 6EW100010AA, 61104501
FAQ
Are Fanso batteries rechargeable?
No, Fanso batteries are primary batteries. These are non-rechargeable. This China-based company is the country's leading manufacturer of non-rechargeable batteries with application data and accumulated storage guiding the company's constant innovation for more than 30 years.
How long do Fanso batteries last?
Most Fanso battery models are designed for long term use. These last within the range of 3-15 years.
Do you offer bulk pricing for Fanso batteries?
Yes, we have bulk batteries in various brands and categories, including Fanso batteries. Just feel free to contact us for any related questions, orders, and reservations.
Do you offer 1-day shipping?
Yes, we have one-day shipping process for orders within Melbourne and other nearby areas. Contact us for shipping schedules and further concerns. We are just here always happy to serve you.