PCB (Printed Circuit Board) / EFT Circuit Board Batteries Information
PCB (Printed Circuit Board) / EFT Circuit Board
Printed Circuit Board (PCB) batteries are the batteries used in protecting the Lithium battery pack from overcharging, over draining, and over draining. The printed circuit board is the Lithium battery pack's heart. This keeps the lithium battery pack from damage,fire, or explosion. PCB batteries are recommended for laptops and memory backups or MBUs.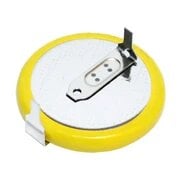 | | |
| --- | --- |
| Dimensions | Diameter Approx: 4.20 - 70.10 mm Height Approx: 2.00 - 61.20 mm Length Approx: 0.37 - 110.0 mm |
| Voltage: | 1.2V, 2.4V, 3V, 3.6V, 3.7V, 4.8V |
| Chemistry | Lithium-ion, Lithium Manganese Dioxide, Lithium Thionyl Chloride, NiMH, Lithium Manganese, Lithium Vanadium Pentoxide, Lithium Poly-carbonmonofluoride |
Frequently Asked Questions
What is a PCB battery holder?
A PCB battery holder is the removable cavity or compartment designed to be attached or inserted into the battery. A PCB holder protects the battery from leakage.
Do you offer bulk pricing?
Yes, we do. We have bulk pricing plans available suitable to your preferences and battery requirements. Get more savings with bulk batteries and batteries on sale. Contact HBPlus Battery Specialists today!
How fast can you ship?
We offer 1-day shipping for orders within Melbourne. For orders outside Melbourne or other regions, contact us for shipping schedule and courier options. Call us now and get your orders the soonest possible time.