Bulk Batteries Information
Bulk batteries at HBPlus Battery Specialists give you a wide range of batteries of original brands, all battery sizes and chemistries along with the various battery capacities and applications. We are a super distributor of all Duracell batteries Australia wide. We specialise in giving you the finest quality AAA batteries and the most in-demand AA batteries.
We also have an impressive collection of D batteries, C-size batteries, 9V bulk, Specialty cells, Varta Bulk, Procell Intense Bulk, Procell bulk batteries, Energizer bulk batteries, Duracell and Eneloop. We guarantee of giving you the best deals in buying batteries in bulk as we have created tiers for highest standard batteries at unbeatable prices. We also retail Duracell and other brands direct to the public.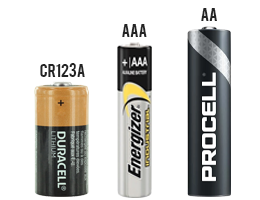 | | |
| --- | --- |
| Battery Sizes/Voltage: | AA, AAA, 9V, C, D |
| Brands: | Duracell, Procell, Procell Intense, Varta, Energizer, Eneloop |
FAQ
Why go for bulk batteries?
Get bulk batteries for your home, office, business, or even outdoors. This saves you time and even money. Grab them anytime, anywhere without running out of power for all of your devices' full functions. Buy batteries in bulk and avoid delays in your transactions and activities to boost sales, career goals and experience success and happiness on the go!
How do I avail of your bulk pricing offer?
HBPlus Battery Specialists give you various bulk battery accounts that perfectly matches your needs. Talk to one of our experts to start an account with us now for that cost-efficient and time-saving move. You may send an e-mail to sales@hbplus.com.au or call us on 03 9770 8235 for faster reply and quick order processing and other concerns.
How fast can you ship?
We offer 1-day shipping within Melbourne. For areas outside Melbourne or other nearby cities, contact us now to process your orders the soonest possible time.