Silver Oxide Battery
A silver oxide battery is a small-size primary battery, usually button cell or small cylindrical cell. Containing a little amount of silver, its cost is highly affordable compared to other batteries. Other features of silver oxide batteries are the excellent leakage resistance, excellent stable discharge, and safe to use, conforming to EC regulation value and RoHS directive. These are commonly used in IoT devices, precision instruments, medical devices and other related applications.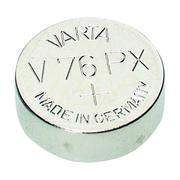 | | |
| --- | --- |
| Dimensions | Height Approx: 2.05 - 5.40 mm Diameter Approx: 6.80 - 11.60 mm |
| Voltage: | 1.5V, 1.55V, 6.2V |
| Chemistry | Silver Oxide |
FAQ
How long do silver oxide batteries last?
The shelf life of silver oxide batteries under proper conditions is 5 to 7 years. This means that with proper care, storage, and room temperature these silver oxide button cells may last up to 7 years.
Which is better silver oxide or alkaline batteries?
Silver oxide batteries last longer twice as aklaline batteries do. The discharge curve is even flatter than the alkaline cells.
Where are silver oxide batteries used?
Silver oxide batteries are used in calculators, analog watches, LCD watches with backlight, alarms, photoelectric exposure devices, electronic instruments, and hearing aids.
Are silver oxifde batteries hazardous?
Silver oxide batteries are not hazardous in normal use. These are NOT labeled as "dangerous goods" under the various international regulation standards.
Do you offer bulk pricing for silver oxide batteries?
Yes, we do. We have silver oxide batteries in bulk and batteries on sale. We are Australia's trusted direct supplier and wholesaler. We are the Battery Specialists, supplying geniune quality batteries at affordable prices in the market compared to others. Shop with confidence for better quality products, service, and fast delivery.