Portable Audio Batteries Top Facts
HBPlus Battery Specialists portable audio batteries are what you need to keep yoour sound and music streaming a breeze. These batteries are designed for Apple, Pure Evoke, GROSS Funk and many other portable audio devices. Get on the groove and enjoy your favorite music anytime, anywhere with our full range of excellent quality portable audio batteries.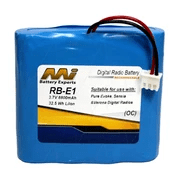 | | |
| --- | --- |
| Voltage | 3.7V, 7.2V, 7.4V, 12V |
| Chemistry | Lithium-ion (Li-ion), Lithium Polymer (LiPo), Nickel Metal Hydride (NiMH) |
Frequently Asked Questions
How long does the ION Tailgater battery last?
It lasts for about 50 hours once fully charged.
Do you offer bulk pricing on portable audio batteries?
Yes, we do. We have different bulk pricing plans suitable to your specific battery requirements. Contact us today and see the benefits from the awesome battery features.
How fast can you ship?
We offer same day shipping for orders within Melbourne. Call us now for your specific shipping schedules and other options.