Fusion Batteries
Fusion Batteries for a Wide Range of Heavy Duty Applications

Fusion batteries are a 100% Australian owned and operated brand, infused with genuine Aussie spirit. Their products are recognised as some of the most reliable and highest quality available on the market. Fusion Battery AGM is committed to designing, developing and making batteries of excellent quality and performance at an affordable price.
Proud stockists of Fusion Batteries with a broad selection

HB Plus Battery Specialists stock the following batteries from the Fusion Battery Range:

The Fusion Battery Deep Cycle series are genuine Valve Regulated Lead Acid batteries (VRLA) that are rechargeable, completely sealed, spill proof, leak proof, and can be used upside down or on their side.


The LiFePO4 a lithium iron phosphate rechargeable battery with a long lifetime and great power density and safety.
Lithium ultra lightweight and long life, very quick recharge and water proof.
Gel Batteries a different type of VRLA battery that can be used in confined spaces and are safe for air travel. The gelÓ makes the battery very resistant to vibration and protects the plates from repetitive discharge/charge.
We can supply Fusion batteries in bulk or individually. Order from our online catalogue or come and visit our Melbourne store in Carrum Downs.
Discover more about our range of batteries by getting in touch
To find out more regarding what we can for you, please do not hesitate to get in touch. Our team has many years of experience dealing with the complete range of Fusion AGM products. This ensures that our customers can rely on us for honest, genuine advice, regardless of their situation and needs. For further information about anything we sell, please do not hesitate to get in touch. We will be happy to discuss your needs and help you make an informed purchasing decision. Call out helpful and friendly team on 03 9770 8235 to find out more, or use our online contact form and we will get back to you as soon as we can.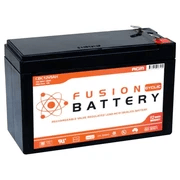 | | |
| --- | --- |
| Dimensions | Length Approx: 151.0 - 530.0 mm Width Approx: 65.0 - 360.0 mm Height Approx: 94.0 - 283.0 mm |