Buy Duracell, Energizer & Procell AA Batteries in Bulk
When it comes to buying AA batteries in bulk, we are proud to be the largest distributor Australia wide. Here at HBPlus, we specialise in providing the best deals on all types of AA batteries . With a wide selection of brands on offer, we are proud to stock Duracell, Procell, Procell INTENSE Power, Energizer MAX PLUS, Camelion, Varta, Ansmann, Fujitsu, and many more.
AA Batteries for All Purposes
No matter what type of AA battery you require, our collection is your best match. With chemistries inclusive of Alkaline, Lithium, Heavy Duty, Carbon Zinc, and NiMH batteries, we are confident our bulk battery deals satisfy your search for quality products and the best value for your money.
When shopping for our collection of AA batteries in bulk, enjoying browsing Eneloop Low Self Discharge NiMH, Lithium, rechargeable, wholesale, and many other battery types to ensure you make the best possible purchase to suit your needs.
Since the Double-A battery is being the most commonly used in several devices, we understand the importance of meeting these demands. With the ability to buy bulk, we guarantee you will never be short of batteries to power your favorite devices.
Discover the Best AA Batteries On the Market
To discover our range of mostly in-demand products, visit our website today and learn how you can save more money when you bulk buy AA batteries. Alternatively, we provide support, advice, and guidance for all purchases with our team of highly qualified experts who are ready to help you whenever you want to shop batteries in bulk.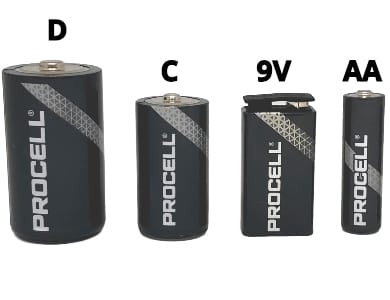 | | |
| --- | --- |
| Dimensions | Length Approx: 49.2 - 50.5 mm Diameter Approx: 13.5 - 14.5 mm |
| Voltage: | 1.2V, 1.5V |
| Chemistry | Alkaline, Carbon Zinc, Nickel Metal Hydride (NiMH) |
15A, 15D, 15LF, 2AA, 815, AA, AL-AA, AM3, Double A, E91, EN91, FR6, KAA, L91, LR6 , LR6XWA, MN1500, MX1500, PC1500, R6, UM3
Frequently Asked Questions
Are there rechargeable AA batteries?
Yes, most rechargeable AA batteries use either NiMH (nickel-metal hydride) or NiCd (nickel-cadmium) chemistries. However we also have the only 1.5V Lithium Rechargeable battery avaialble on the market which is the iPower Li-ion 1.5V AA Rechargeable Battery
Note that non-rechargeble AA batteries typically have a 1.5V voltage, which may differ from most rechargeable NiMH AAs (1.2V). The exception to this is the iPower Lithium Batteries. Always check with your device's user manual to see if a battery voltage, AA battery capacity, chemistry and terminal-type is compatible.
Do AA batteries expire?
Yes, all batteries eventually expire. AA batteries have a range of shelf lives between 3 and 20 years, wholly dependent on the battery's chemistry and storage conditions. We list the rated shelf life on all our product listings when available so you can make an informed choice when buying spares or bulk cells.
What AA battery brand lasts the longest?
At HBPlus Battery Specialists , this factor is often dependent on your device's battery drain and operating temperature. Typically, batteries with larger capacities (mAh) have longer overall runtimes. AA cells tend to max out at 3,500 mAh, and you can filter our wide-selection of batteries by battery apacity (mAh).
Do you offer bulk-pricing on AA batteries?
Yes! We specialise in bulk quantities! Contact a us for a custom quote if you have a large bulk requirement. We have accounts available for customers with average monthly purchases greater than $1,000