Torch Battery Top Facts
What is a torch battery? A torch battery is a professionally-engineered battery designed for high drain devices such as flashlights, cameras, hand sanitisers, and many more. Torch batteries come as battery packs or rechargeable cyclindrical batteries. Some high power batteries for torches also come as disposable or primary batteries. Get high-quality original batteries and replacement battery for Eiger torch Australia, Eiger rechargeable torch, Eiger USB rechargeable torch, Eiger multi-function rechargeable torch lighthouse and many other leading torch brands and models.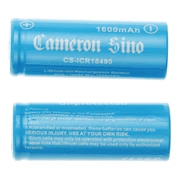 | | |
| --- | --- |
| Dimensions | Diameter Approx: 10.50 - 102.00 mm Height Approx: 33.50 - 307.50 mm Length Approx: 17.00 - 99.0 mm |
| Voltage: | 3.6V, 3.7V, 4.8V, 6V |
| Chemistry | Lithium-ion, Nickel Cadmium (NiCad), Nickel Metal Hydride (NiMH) |
Frequently Asked Questions
How long do torch batteries last?
On average use, torch batteries last between 15-24 hours. This depends on the way you use it.
Do rechargeable batteries die if not used?
Yes, Lithium ion batteries slowly discharge or self-discharge when not in use. Most rechargeable batteries have limited life expectancy for about 2 - 3 years.
Do you offer bulk pricing on torch batteries?
Yes, we do. We have bulk pricing plans suitable to your soecific battery requirements and preferences. Get a free quote and save more on bulk batteries. Contact the Battery Specialists now!