Lithium-Ion Battery Information
A lithium-ion battery is one of the most popular types of rechargeable batteries. Like most lithium batteries, a lithium-ion battery is commonly used in portable electronic devices including laptops, smartphones, and other gadgets. It is also used for watch battery replacement. The lithium car battery is also used in electric vehicles. This 12V lithium battery is also used in aerospace and military applications.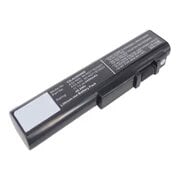 | | |
| --- | --- |
| Dimensions | Length Approx: 10.0 - 1680.0 mm Diameter Approx: 3.5 - 600.0 mm |
| Chemistry | Lithium-ion |
CR17345, 5018LC, RCR-V3, 5047LC
FAQ
Want to know more about Lithium-ion batteries?
Lithium rechargeable batteries have a longer shelf life. Other lithium battery advantages include high energy density, low maintenance, low self-discharge, and the fact that this can produce a very high current for power tools with its specialty cells. This type of rechargeable battery comes in various shapes and sizes.
Can lithium batteries be used in place of regular batteries?
Yes, these can replace regular batteries with lithium-ion batteries while providing better battery performance to your device. The only drawback here is that it can be costly.
Do you offer bulk prcing for Lithium-ion batteries?
Yes, lithium-ion batteries Australia gives the users the privilege to enjoy discounted prices and a high-quality product, letting you enjoy all the benefits of lithium-ion batteries in bulk.