12V Batteries Information
12V batteries are also known as lantern batteries, automotive batteries, RF transmitters' A23 battery. These also come in varying shapes and sizes. Having a series of 6 single cells, the 12V battery has an output voltage of 12.6V once fully charged.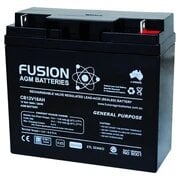 | | |
| --- | --- |
| Dimensions | Length Approx: 28.2 mm - 42.9 mm Diameter Approx: 8.0 - 22.2 mm |
| Voltage: | 12V |
| Chemistry | Alkaline,Lithium, Lithium Manganese, Silver Oxide, Lithium Thionyl, Lithium Vanadium Pentoxide, Lithium Sulphur Dioxide, Lithium Manganese Oxide, Lithium Manganese Dioxide |
FAQ
Aside from being used as car batteries, what are the other uses of 12V batteries?
12V batteries are also used in tiny RF devices as keyless entry systems, wireless doorbells, key-FOB garage door, cigarette lighters, and other similar devices using infrequent pulse current. These are also used in the Marine and RV industries.
How long do 12V lead-acid batteries usually last?
It typically takes 5 to 6 years for 12V AGM or Gel and other lead-acid batteries while retaining 80% of the original battery capacity.
Do you offer bulk pricing for 12V batteries?
Yes, we offer bulk pricing for all 12V batteries. As the leading battery wholesaler in Australia, we are happy to serve you even better. Feel free to contact us for bulk batteries and other products we offer.