6V Battery Information
A 6V battery is a lead-acid type cell. It is also known as a lantern battery. It usually uses four large D size batteries having 1.5 volts in each cell. 6V batteries are used in dog training devices, medical instruments, film and digital cameras, and many other devices. Most 6V batteries are deep-cycled. Deep-cycled batteries further extend the storage and discharge capacity, making them more efficient and cost-effective.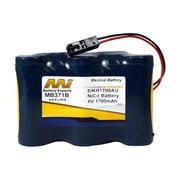 | | |
| --- | --- |
| Dimensions | Length Approx: 16.00 - 125.4 mm Diameter Approx: 10.3 - 13.0 mm |
| Voltage: | 6V |
| Chemistry | Alkaline, Carbon Zinc, AGM, Nickel Metal Hydride (NiMH), Nickel Cadmium (NiCad), Sealed Lead Acid (SLA), Sealed Lead Tin, Lithium Manganese Dioxide, Lithium Manganese Oxide, Lithium Iron Phosphate LiFePO4), Lithium Poly-carbon monofluoride, GEL |
4LR932, 1811A, 11A, 55, E11A, MN11, L1016, 4LR23, V11GA, LR1016, 908A, 908D, 4LR25Y, 4R25, MN908, PJ996, 6135-99-645-6443, 4LR25X, 4R25X, 915, 915A, Energizer 521, Energizer 529, 918, 918A, 4R25-2, 4LR25-2, 7K67, 4LR61, 1412A
FAQ
Do you offer a wide range of 6V batteries?
Yes, as Australia's direct supplier and leading battery wholesaler, we have a wide range of bulk batteries available for various purposes, including 6V batteries.
Hong long can 6V batteries last?
6V battery life typically lasts for 5-7 years.
Why are 6V batteries popular with motorists and electricians?
6V batteries are mostly deep-cycled that optimizes their discharge and storage capacities. This is an awesome choice for motorists and electricians because it extends the charging/discharging process, fitting a low-cost budget.
Do you offer bulk pricing for 6V batteries?
Yes, we offer bulk pricing for 6V batteries and other products. Feel free to contact us for inquiries, orders, and reservations regarding 6V batteries in bulk. We are happy to assist you and process your orders the soonest possible time.