Varta Batteries Quick Facts
Varta batteries are the high-quality batteries produced by the giant manufacturer - Varta. These are proudly made in Germany. Varta focuses on producing high-quality batteries with greater emphasis on the different energy needs and power solutions to its consumers worldwide. It is also highly engaged in producing high-performing batteries yet more eco-friendly.
VARTA BATTERIES ON A CLOSER LOOK
Every Varta battery is powerfully made for greater durability. You can find these prosucts as Varta AA, Varta High Energy Industrial D, Varta High Energy Industrial 9V, Varta High Energy Industrial C, Varta High Energy Industrial AAA, and Varta Industrial 6V. Varta also takes pride in such Lithium batteries as its Professional Lithium AA, Varta CR123A, AA 3V 2000mAh Lithium, Professional Lithium AAA, Varta CR2, CR2320, and Professional Lithium 9V . It also showcases the such Alkaline products as the Varta Energy Alkaline batteries AAA, Energy Alkaline AA, High Energy Alkaline AA, 1.5V Alkaline Button Cell, High Energy Alkaline AAA, High Energy Alkaline C, and High Energy Alkaline D. Varta has such Pofessional Elecrtonics Product line for CR2032, CR1632, CR2450, CR1220, CR1616, CRV23GA and V13GA. You can also go for Ready to Use NiMH batteries D, C-size, 9V, and Triple A. There are also Silver Oxide , lantern, watch, and other specialty cells. HBPlus Battery Specialists takes pride as being Australia's most trusted direct supplier and battery wholesaler of the excellent Varta batteries.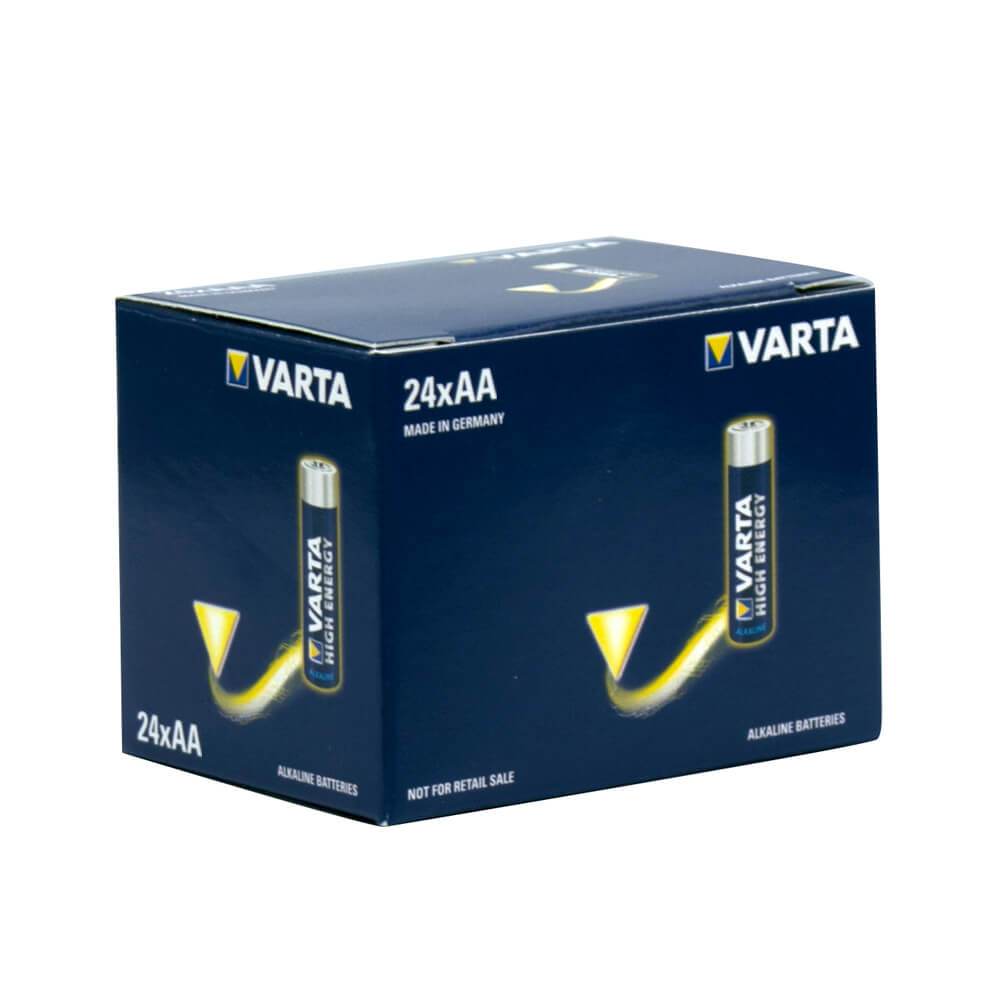 | | |
| --- | --- |
| Dimensions | Diameter Approx: 10.00 - 112.00 mm Height Approx: 3.05 - 118.00 mm Length Approx: 40.00 - 318.0 mm Weight Approx: 1.36 - 2530.0 g |
| Voltage: | 1.2V, 1.5V, 1.55V, 2.4V, 3V, 3.6V, 4.8V, 6.2V, 6V, 7.4V, 9V |
| Chemistry | Alkaline, Lithium-ion, Lithium Manganese, Lithium, NiMH, Silver Oxide |
Frequently Asked Questions
How long do batteries last?
Varta batteries usually last for about 4 years or even more. However, some conditions such as freezing weather and improper storage may cause the battery to be less effective and eventually degrade.
Are Varta rechargeable batteries any good?
Yes. Varta Recharge Power AA batteries have long capacity rating and longer use cycles. These can actually be recharged up to 1,000 times/uses.
Do you offer bulk pricing?
Yes, we do. We have bulk pricing plans to suit your specific battery requirements. Get high quality Varta bulk batteries or any other batteries in bulk. Enjoy more saving and product excellence to the best of your advantage. Contact HBPlus Battery Specialists now!