NiMH Battery Information
Nickel Metal Hydride or NiMH battery is a rechargeable battery that has a nominal voltage of 1.2V. This battery's energy density is almost the same as the Lithium-ion battery while the battery capacity triples its equivalent NiCad. Compared to NiCad cells, NiMH batteries have relatively higher self-discharge rates. Uses of the NiMH batteries range from small electronics to hybrid cars.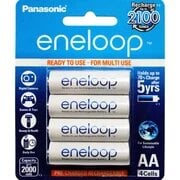 | | |
| --- | --- |
| Dimensions | Length Approx: 44.50 - 61.50 mm Diameter Approx: 10.50 - 34.20 mm |
| Nominal Voltage: | 1.2V |
| Chemistry | Nickel Metal Hydride |
FAQ
What is a rechargeable NiMH battery used for?
Rechargeable NiMH batteries are used to power electric razors, digital cameras, camcorders, toothbrushes, pagers, mobile phones, automotives, medical instruments and equipment, and for high power static applications such as Smart grid, Telecoms, and UPS.
How long do NiMH batteries last?
NiMH batteries that are not dropped and stored in cool, dry places last for two to three years. This is approximately 500-1000 charges.
Are NiMH batteries dangerous?
NiMH batteries are considered as non-dangerous goods. These come with inner packaging that effectively prevents short circuit.
Do NiMH batteries explode?
Yes, NiMH batteries may explode if used incorrectly as these contain electrolytes.
Do you offer bulk pricing for NiMH batteries?
Yes, we offer bulk pricing for NiMH batteries. Australia's leading wholesaler and direct supplier, Battery Specialists , lets you enjoy more savings with NiMH batteries in bulk and other products. Shop now with confidence for we ship quickly without delay!