PDA Battery Top Facts
What is a PDA battery? A PDA battery is a battery personal digital assistants or PDAs such as Palm Tungsten, Palm 3C, and other Palm models. These devices have both internal and external PDA battery modifications to increase battery use or allow longer charge time. However, not all PDAs are suitable for these battery modifications as these can void warranty and might impose other possible risks on your device. The best thing to do here is to find high-quality compatible batteries for your specific PDA brand and model.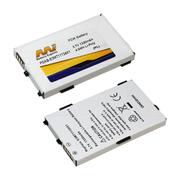 | | |
| --- | --- |
| Dimensions | Diameter Approx: 10.50 - 68.60 mm Height Approx: 3.40 - 58.50 mm Length Approx: 4.60 - 91.50 mm Weight Approx: 13.00 - 240.00 g mm |
| Voltage: | 3.7V |
| Chemistry | Lithium-ion, Lithium Polymer |
Frequently Asked Questions
How long does a PDA battery last before it needs to be recharged?
A PDA battery lasts for about 24 hours of use before it needs to be recharged. This also depends on the battery's condition, brand, quality and the way you use your PDA.
Can you bring batteries on airplanes?
It depends on the plane. However, the usual policy is that two spare batteries are allowed for the dry battery types (AA, AAA, C batteries, and D-size batteries) on both checked and carry-on baggages. Non-spillable wet batteries are also usually allowed.
Do you offer bulk pricing?
Yes, we offer bulk pricing on PDA batteries and other products. As Australia's trusted direct battery supplier and wholesaler, we have different bulk pricing plans suitable to your specific battery requirements. Save more on bulk batteries and batteries on sale, only at HBPlus Battery Specialists.