CR2032 Batteries Information
These batteries have a voltage of 3 volts. They either come as coin/button cell or PLC batteries. These batteries are usually used for calculators, glucose monitors, and fitness devices. Lithium is the most common battery chemistry for CR2032 batteries.
Want to Know More About CR2032 Battery?
CR2032 battery is a common non-rechargeable lithium battery. It features Lithium as the negative electrode and Manganese Dioxide as the positive electrode. This coin battery is also used to power medical devices, wristwatches, back up batteries for real-time clock (RTC), and nonvolatile BIOS memory on computer motherboards.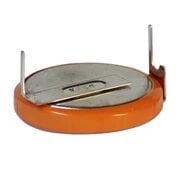 | | |
| --- | --- |
| Dimensions | Length Approx: 3.2 mm - 3.2 mm Diameter Approx: 20 mm - 20 mm |
| Voltage: | 3V |
| Chemistry | Lithium Manganese Dioxide, Lithium/Carbon Monofluoride, Lithium Ion |
BR2032, LiR2032, KT-CR2032, E-CR2032, KL2032, DL2032, CR2032BP, 5004LC, SB-T15, DJ2032, EA-2032C, 5004LB, GPCR2032, KCR2032, L14, LM2032
FAQ
Are all 2032 batteries non-rechargeable?
CR2032 lithium batteries are non-rechargeable. LiR2032 is its rechargeable variant.
Do you offer bulk orders for CR2032 batteries?
Yes, we do. As Australia's leading wholesaler, we make sure that both small-scale and bulk orders are handled well and delivered at your doorstep the soonest possible time. Feel free to contact us anytime and we will be happy to assist you right away.