6 Volt Lantern Battery Quick Facts
What is a 6 volt lantern battery? A lantern battery is a rectangular battery that is more powerful than regular torch batteries. It is a type of lead acid cell with four D-size cells inside. It is used for large flashlights and lanterns or other illumination devices that requires higher energy capacity. Its higher capacity is based on the multiple cells inside the housing. This makes the lantern battery a better option.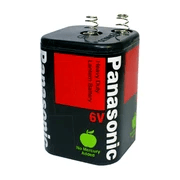 | | |
| --- | --- |
| Dimensions | Length Approx: 4.60 - 4.60 mm Width Approx: 2.60- 2.60 mm Height Approx: 2.60- 2.60 mm |
| Voltage: | 6V |
| Chemistry | Sealed Lead Acide (SLA), Carbon Zinc |
Frequently Asked Questions
What are the other uses of lantern batteries?
Lantern batteries are also used as a light source for hiking or camping. These batteries are also used as backup power supply for UPS. These are also used in electrically powered vehicles and golf carts. Lantern batteries are also useful in the lighting system of roadworks and construction energy. These batteries are even used in trailer homes and RV.
Do you offer bulk pricing in 6 Volt lantern batteries?
Yes, we do. We are Australia's trusted battery wolesaler and direct supplier and we take pride in providing high-quality batteries at the best possible price for our consumers' welfare. We have various bulk pricing plans suitable to your specific battery requirements. Contact HBPlus Battery Specialists for more details.
How fast can you ship?
We have same-day shipping for orders within Melbourne. If you are ordering from other states or regions, make sure to call us at 03 9770 8235 for estaimated shipping schedule and other delivery options you might have.