The Different Types of AAA Batteries:
How Do They Compare to Each Other?


Your TV remotes, game controllers, and other small devices usually run on AAA batteries. 
Along with AA's and CR123's, AAAs are among the most common types of batteries used at home, in the office, or on the go.
But AAA batteries are not the same and they can't be used interchangeably in all devices.
Let's take a deep dive into the features of AAA batteries and see the differences so you can make the right decision when you buy your batteries.
Why Are They Called AAA Batteries?

The acronym AAA is a standard designation used in the early 1900s when standardised products became popular. 
It refers to rechargeable and non-rechargeable standard size cells that are 44.5 mm long with a diameter of 10.5 mm. The positive terminal is 3.8 mm in diameter, while the negative terminal has a diameter of 4.3 mm. 
AAAs are smaller than a standard AA but bigger than the AAAA battery type. 
With so many different manufacturer codes for the same-sized battery like E92, PC2400, LR3, MN2400, MX2400, EN92, PX2400, non-rechargeables, nickel-cadmium, and so many others, shopping for batteries would have been a nightmare. 
That's why the International Electrochemical Association and the American National Standards Institute kept the standard designation.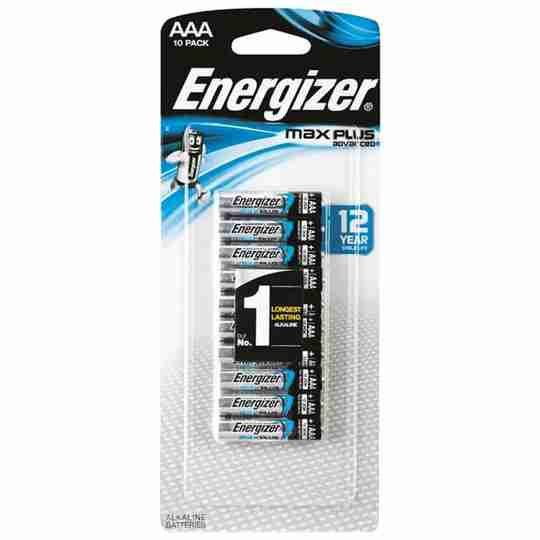 | | | | | |
| --- | --- | --- | --- | --- |
| AAA Battery Type | Voltage(V) | Capacity(mAh) | Reuse | Chemistry |
| Alkaline | 1.5 | 850-1200 | Single-use | MnO2 |
| Nickel oxyhydroxide | 1.7 | 300-600 | Single-use | NiO(OH) |
| Lithium Iron Disulfide | 1.5 | 1100-1300 | Single-use | LiFeS2 |
| Nickel Cadmium | 1.2 | 300-500 | Rechargeable | NiCd |
| Nickel Metal Hydride | 1.2 | 600-1300 | Rechargeable | NiMH/ NiOH2 |
Non-Rechargeable AAA Batteries 
Some AAA batteries come in a single-use primary battery which you throw away when used up. Typically, non-rechargeable batteries come in four major groups depending on their chemistry. 
Zinc-Carbon 

Zinc-Carbon batteries get their electric current from the reaction between zinc and manganese dioxide. 

The battery uses zinc and carbon electrodes, and the electrolyte is typically made of ammonium or zinc chloride. 
Zinc-carbon cells have a nominal voltage of 1.5 V and a very low capacity (500–600 mAh), so they only work well for devices that don't drain excessive current like TV remotes or clocks. Plus, they get depleted faster than most other AAAs.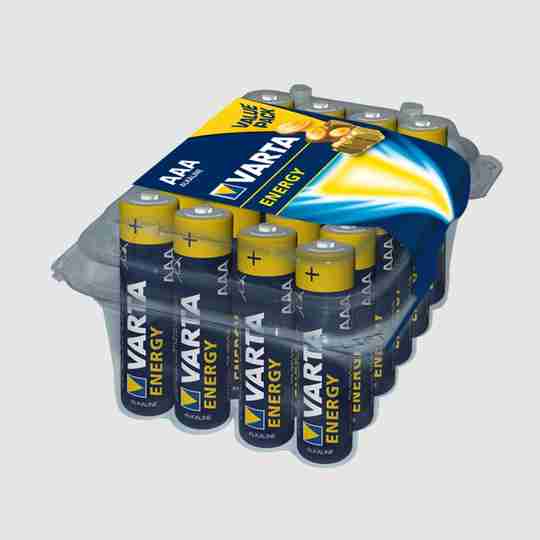 Alkaline 
Alkaline batteries have similar chemistry to zinc-carbon batteries. They both use zinc and manganese dioxide chemistry. But the difference lies in the electrolyte used. Alkaline batteries are so-called because they use an alkaline potassium hydroxide electrolyte. 
This slight difference in chemistry goes a long way in improving the capacity of alkaline batteries for the same nominal voltage (1.5 V). They tend to have higher energy densities and capacities (850–1,200 mAh) and last longer than zinc chloride batteries.
Nickel Oxyhydroxide 
Nickel oxyhydroxide batteries (NiOx) batteries use both nickel oxyhydroxide and manganese dioxide as the electrolyte. Their battery chemistry gives them a higher nominal voltage (1.7 V) than the other non-rechargeables. 
They typically have higher energy densities and can be used in devices that draw a lot of power, like cameras.
Lithium Iron Disulfide 

This non-rechargeable AAA uses a lithium/iron disulphide chemistry. The batteries have a lithium anode and iron disulphide cathode with a lithium salt as the electrolyte. 
They give a similar nominal voltage (1.5 V) as the other primary cells (up to 1.8 V maximum open-circuit voltage). Their capacity is usually around 1,200 mAh making them suitable for high-drain use in cameras and high power lighting. 
Lithium iron disulfide batteries have long lifespans; some can last up to 20 years. This means they can be used in standby devices like panic alarms. 
Secondary AAA Batteries

Secondary AAA batteries are rechargeable, meaning you can use them over and over again. Rechargeable AAAs are mainly lithium and nickel-based. 
Nickel Cadmium 
Nickel-cadmium AAAs use nickel oxide hydroxide and cadmium as electrodes with a potassium hydroxide electrolyte. The batteries have a nominal voltage of 1.2 V and a capacity of between 300 and 500 mAh.
Nickel Cadmiums are the oldest among the rechargeable AAAs with a high self-discharge and high toxicity (cadmium is a dangerous heavy metal). They are now rarely used and have mostly been replaced by metal-hydride based batteries.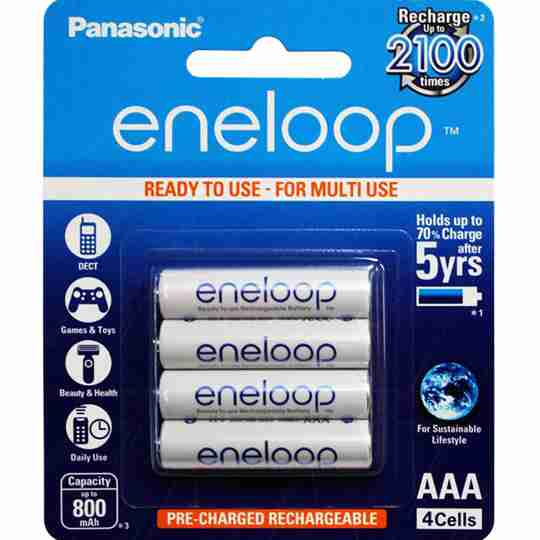 Nickel Metal-Hydride
Nickel metal hydride AAA batteries have a nominal voltage of 1.2 V with a capacity of 600–1,300 mAh. 
They are very similar in chemistry to nickel-cadmium batteries, but the dangerous cadmium is replaced with a different alloy in these batteries. This makes them safer with a more stable output. 
| | | |
| --- | --- | --- |
| Dimension | Lithium 10440 | AAA |
| Diameter | 10mm | 10.5mm |
| Height | 44mm | 44.5mm |
Because of their similarities, 10440s are grouped with AAAs. However, they have a nominal voltage of 3.7 V (standard AAAs have a voltage of 1.5 V), which means you can only use them for high voltage devices. They typically have a capacity of 350 to 600 mAh.
Lithium-ion batteries have different chemistries, including IMR (Lithium Manganese Oxide), INR (Lithium Manganese Nickel), IFR (Lithium Iron Phosphate), ICR (Lithium Cobalt Oxide, Lithium Nickel Cobalt Oxide, or Lithium Nickel Cobalt Aluminium Oxide).
Frequently Asked Questions About AAA Batteries
Can I Use Different Types of AAAs Interchangeably?

It's highly advisable to stick to the same type of battery for your device. Whether you are using rechargeable or non-rechargeable AAA batteries, avoid varying the types or brands you use. 




That's because the different chemistries and brand variations can cause leakages and reduce the performance of your batteries. It's also essential to use the manufacturer-recommended charger for your secondary batteries.

Is it Better to Get Rechargeable or Single-Use Batteries?

There's no one size fits all solution when it comes to batteries. The best type of battery will depend on the device you want to power.  




The single-use type is cheaper to buy but tends to cost more in the long run due to the need for replacement. 




Rechargeable AAAs will cost you more upfront, but you won't have to replace the batteries every so often. 




For high output devices like LED lighting and cameras, it's advisable to go with rechargeable batteries. If your device is low-drain like a remote control or clock, single-use cells will work just fine.
Getting Your AAA Batteries
AAA Batteries are so varied in chemistry; it's best to buy trusted brands like Duracell, Varta, Procell, and other similar tried and tested brands.

Look no further than the Battery Specialists for a wide range of AAA batteries for your home or office supplies. 
View our wide selection of AAAs and get in touch with us if you have any questions.